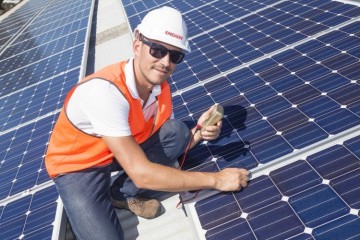 Together with our technology partner, Vikram Solar, we ensure reliable & durable turnkey EPC solutions right from concept to commissioning for your solar power plants.
Our end to end solutions includes designing, engineering, procurement, installation & commissioning of the solar power plants ensuring best return on investment for our clients and business partners .
Features of Vikram Solar:
We have a highly skilled and dedicated EPC team to ensure end-to-end project execution.
We ensure reliability, risk-free yields and durability by using quality multi-system products
We have internationally accredited expertise in engineering and technology, procurement, projects management including construction and commissioning with a command over in asset management with operation and management expertise.
We ensure performance security to protect the interest of investors.
We have In-depth experience in typical and complex installations.
We have executed projects totaling over 300 MW.